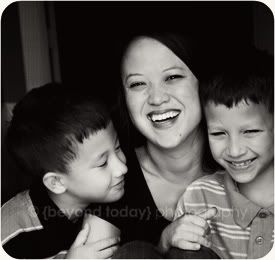 When I was a little girl, many an hour was spent drawing and painting and sketching. The results brought me joy, but didn't accurately reflect what my mind's eye would see. I can still remember the wonder and excitement when I received my first digital camera and the JOY from documenting my life and my own little corner of the world. Expectations and results finally meet!
Life is more than one big occasion, more than the milestone birthday bash or fairytale wedding. It is made up of moments and details... stifled grins with eyes that smile, open mouthed laughter, blue blankies and red tennis shoes, crinkled noses. After my youngest son Christian passed away in August 2008, these were the things that I missed and reflected upon the most. So many
little
things.
The images that we have from years past have been a great comfort and blessing to me. This gift of tangible memories is one that I would like to share with others. How my heart aches for mothers and fathers that do not have a picture of their child! And for the young women and men out there that do not see the beauty in themselves, they who were created in the image of God, you are God's greatest creation! I would be honored to photograph the beauty of you to hold in your hands.
Jesus opened my eyes, as the camera opened my heart,
to see all of the beauty this world has to behold.